Our Guests Tell Us
River House Inn is one of the top-rated places to stay in Florence! We are in the TripAdvisor Hall of Fame, one of Oregon Business magazine's 100 Best Fan-favorite Destinations in Oregon, and have won the Florence Area Chamber of Commerce's top award for customer service and the Siuslaw News People's Choice Award for Top Hotel or Inn!
We take great pride in providing the best accommodations that Oregon's Coastal Playground has to offer!
We are nestled on the beautiful Siuslaw River just steps away from the best shops, art galleries, and restaurants that Florence has to offer. And we provide our best to our guests every day. It is our mission to exceed guests' expectations with a spotless, reasonably-priced, well-appointed room and exceptional customer service. This makes us an award-winning travel destination for you, your family, and your friends! 
 We chose a room with a river view. A pleasant experience enjoying the calming effect of the river. The check in experience was quick and the receptionist friendly and helpful. The check out experience was even more convenient. We look forward to staying there again.
The real attraction to this place is the staff. We've stayed in many high-end facilities and NONE can match these individuals. Friendly, engaging, and immensely informative/helpful with any request. They deserve the highest commendation we can give.
We enjoyed staying at this hotel. Walking distance to all shops and places to eat and drink in old town Florance. We felt like we were in the heart of the city but still near beautiful natural sites with the river water right out our balconly. Staff were friendly and easy going.
I come to Florence 5-6 times a year for work. This is the only place I will stay!! Super clean and updated rooms. Always clean and comfortable. Staff are the best as well. Fast check-in and always helpful. The riverfront rooms are the better. A+ all around!!!!!
This wonderful hotel is where our Seacoast Entertainment Association performers and musicians always want to stay. I  book rooms here for family and friends visiting Florence who want the true downtown experience. Ideal location, comfortable rooms, incredible views. We are so lucky to have them!
Our favorite old town Florence hotel. Super friendly folks and attention to even the smallest details. Awesome walking access to old town, and that helps make this place our favorite in Florence.
A Fan-Favorite Destination
Oregon Business honored River House Inn as one of their 100 best fan-favorite destinations in Oregon for 2019. This award is given to businesses based on an analysis of over 40,000 customer reviews!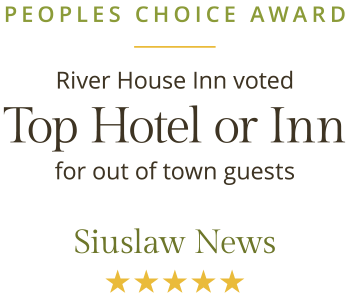 The Top Inn
in Florence
The Siuslaw News People's Choice Awards honored River House Inn with the top hotel or inn award for guests visiting from out of town. This award is a great honor and all of us at River House Inn wear it with pride!
2020 Travelers' Choice Winner
River House Inn has been picked by Travelers' Choice as one of top 10% hotels in the world. Thanks to all of our wonderful guests and our fantastic staff that has made this possible.
Hall of Fame Award Winner
At River House Inn, we work hard to deliver consistently positive service to all of our guests. This effort is recognized by TripAdvisor with a Certificate of Excellence award, which we have earned over the last 5 years.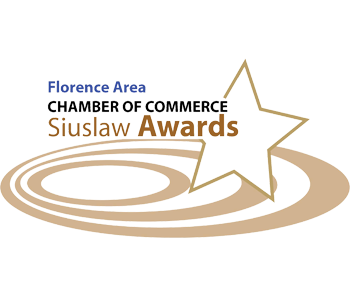 Chamber of Commerce Siuslaw Award Winner
River House Inn was honored with this prestigious award recognizing excellence in the local business community in Customer Service.
1202 Bay Street Florence, OR 97439